Hope everyone is doing ok given the circumstances, I know this isn't the 2020 anyone signed up for.
I know a few plate fans here, so something a little different...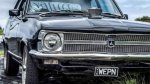 Car enthusiasts have rallied around a Victorian man who has had his beloved number plates "randomly cancelled" because authorities deemed them offensive.

Peter Hansen has had his custom number plates, which read as 'WEPN', for ten years, according to 7 News – however out of the blue VicRoads decided they were 'offensive'.

"Number plates containing offensive language, anti-social values, racial overtones or a negative road safety message are generally unacceptable," a letter sent to Mr Hansen said.
https://au.news.yahoo.com/driver-forced-to-turn-over-offensive-licence-plate-023439532.html